Shape Shares Nail Trends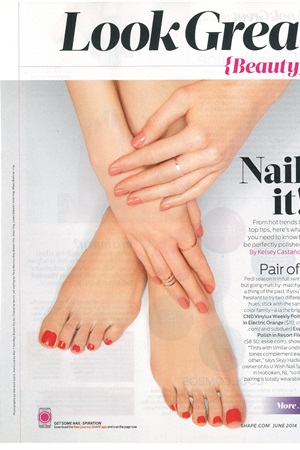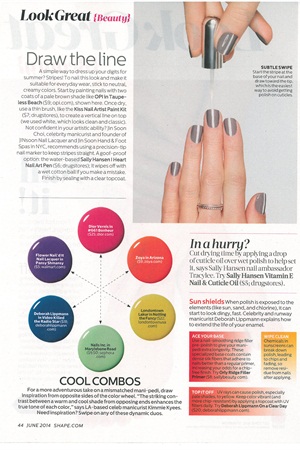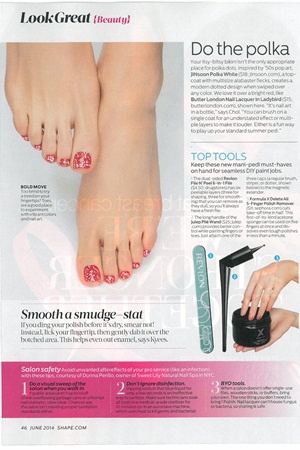 The June 2014 issue of Shape Magazine has eight trends and tips to help keep you perfectly polished.
1. Pair Off: These days, people are going bold by picking two different colors for fingers and toes. But if that is just too much, keep it in the family by picking two colors of the same hue for a complementary look. (CND Vinylux Weekly Polish in Electric Orange and Essie Polish in Resort Fling)
2. For a more adventurous take on a mismatched mani-pedi draw inspiration from opposite sides of the color wheel. Pink and gree, orange and blue, or purple and yellow enhances the true tone of each color. (Dior Vernis in #661 Bonheur, Zoya in Arizona, Londontown Lakur in Notting the Fancy, Nails Inc. in Marylebone Road, Deborah Lippmann in Video Killed the Radio Star, and Flower Nail'd In Nail Lacquer in Pansy Shmansy).
3. Draw The Line: Add a stripe to your neutral polish to dress up your mani a bit. If you aren't confident in your steady hand, grab a striper brush for an easier application. (OPI in Taupe-less Beach, Kiss Nail Artist Paint Kit, Sally Hansen I Heart Nail Art Pen).
4. In a Hurry?: Applying a drop of cuticle oil over wet polish cuts drying time by setting the style.
5. Sun Shields: Manicurist Deborah Lippmann
6. Smooth a Smudge: If you ding your polish before it's dry, simply lick your fingertip, and gently dab it on the botched area. It'll help smooth the enamel out.explains how to extend the life of your polish. Use a nail-smoothing ridge filler pre-polish. Remove residue of sunscreens from hands as soon as you're done applying.
7. Do The Polka: JINSoon Polka White is a topcoat with multisize alabaster flecks that is perfectly paired over a bright color like Butter London Nail Lacquer in Ladybird for an instant polka dot look. A single coat is more understated and more layers is a louder look. And use a topcoat with UV filters daily to keep polish from yellowing in the sun.
8. Top Tools: These mani-pedi products are must haves. The dual-sided Revlon File N' Peel 6-in-1 File, the long handle of the Julep Plié Wand and Formula X Delete All 5-Finger Polish Remover.
Other News: