The Manicure Maven: Elle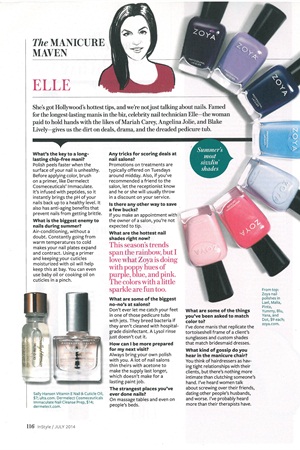 She's got Hollywood's hottest tips, and we're not just talking about nails. Famed for the longest-lasting manis in the biz, celebrity nail technician Elle - the woman paid to hold hands with the likes of Mariah Carey, Angelina Jolie, and Blake Lively - gives us the dirt on deals, drama, and the dreaded pedicure tub in InStyle's July issue.
Q: What's the key to a long-lasting mani?
A: Polish peels faster with the surface of your nail is unhealthy. Before applying color, brush on a primer, like Dermelect's Cosmeceuticals' Immaculate. It's infused with peptides, so it instantly brings the pH of your nails back up to a healthy level. It also has ani-agin benefits that prevent nails from getting brittle.
Recommendations include Sally Hansen Vitamin E Nail & Cuticle Oil and Dermelect Cosmeceutical's Immaculate Nail Cleanse Prep.
Q: What is the biggest enemy to nails during summer?
A: Air-conditioning, without a doubt. Constantly going from warm temperatures to cold makes your nails plates expand and contract. Using a primer and keeping your cuticles moisturized with oil will help keep this at bay. You can even use baby oil or cooking oil on cuticles in a pinch.
Q: Any tricks for scoring deals at nail salons?
A: Promotions on treatments are typically offered on Tuesdays around midday. Also, if you've recommended a friend to the salon, let the receptionist know and he or she will usually throw in a discount on your service.
Q: Is there any other way to save a few bucks?
A: If you make an appointment with the owner of the salon, you're not expected to tip.
Q: What are the hottest nail shades right now?
A: This season's trans span the rainbow, but I love what Zoya is doing with poppy hues of purple, blue, and pink. The colors with a little sparkle are fun too.
Colors include: Lael, Malia, Pinta, Yummy, Blu, Yana, and Dot.
Q: What are some of the biggest no-no's at salons?
A: Don't ever let me catch your feet in one of those pedicure tubs with jets. They breed bacteria if they aren't cleaned with hospital-grade disinfectant. A Lysol rinse just doesn't cut it.
Q: How can I be more prepared for my next visit?
A: Always bring your own polish with you. A lot of nail salons thin theirs with acetone to make the supply last longer, which doesn't make for a lasting paint job.
Q: The strangest place you've ever done nails?
A: On massage tables and evne on people's beds.
Q: What are some of teh things you've been asked to match color to?
A: I've done manis that replicate the tortoiseshell frame of a client's sunglasses and custom shades that match bridesmaid dresses.
Q: What kind of gossip do you hear in the manicure chair?
A: You think of hairdressers as having tight relationships with their clients, but there is nothing more intimate than clutching someone's hand. I've heard women talk about screwing over their friends, dating other people's husbands, and worse. I've probably heard more than their therapists.
Other News: